Gym Flooring!
Buy from An Excellent Range of Gym Flooring with Professional Services
Gym Flooring in Dubai
Are you looking to turn your extra room into a home gym or upgrade your commercial gym space? One of the most important decisions you'll have to make is choosing the right type of flooring. The flooring you choose can have a big impact on the look and functionality of your gym, as well as the safety and comfort of the people who will be using it. At Flooring Dubai, we understand the importance of having the right flooring for your gym. That's why we offer a wide range of gym floor mats, designed to meet the needs of both residential and commercial gyms. Whether you're looking for a durable and low-maintenance option or a more stylish and high-performance solution, we have you covered.
Choose the Best Gym Floor Mats for Your Home or Business
Our gym floor mats are designed to provide a comfortable and safe surface for your workout. They are made from high-quality materials, such as rubber, foam, or vinyl, that are both durable and slip-resistant. This means that you can enjoy your workout without worrying about slips, trips, or falls, even when you're sweating. In addition to providing a safe and comfortable workout surface, our gym floor mats are also easy to clean and maintain. This is especially important for commercial gyms, where hygiene and cleanliness are essential. Our mats can be easily wiped down with a damp cloth, and they are resistant to spills and stains, so you can keep your gym looking great for years to come.
Another benefit of our gym floor mats is that they are available in a variety of colors, textures, and sizes, so you can choose the perfect look for your gym. Whether you prefer a neutral color that blends in with your decor or a bold and bright color that adds a pop of personality to your space, we have the right mats for you. So if you're ready to take your home or commercial gym to the next level, visit Flooring Dubai today to browse our wide range of gym floor mats. Whether you're looking for a simple and functional solution or a more high-end and stylish option, we have everything you need to create the perfect gym space.
We offer a variety of options for Gym Flooring
So, Flooring Dubai provides you top 7 gym flooring ideas for 2023 with their features and a huge range of colors to give you a comfortable and stylish design with safety.
Rubber, Artificial Turf, Cork, Wooden, Foam, Vinyl, and Carpet Gym Floorings
Rubber Flooring
Rubber gym flooring is the most versatile option for you. It will protect you and your subfloor from any damage. Moreover, it will give you a soft and smooth surface and feels more comfortable when you are doing your workout. Further, it also provides you with ease and joy. It is very strong and is mostly used in commercial applications and home applications. Rubber flooring for the gym comes with different sizes of mats and tiles to cover large room applications—quick installation and not very expensive. Flooring Dubai provides you with more other types of rubber flooring with respect to the size and thickness of rubber flooring you need also comes with different price ranges like roll, mats and tiles floor. You can choose according to your requirements. It will come in a vast range of colors and designs. It will become difficult for you to select the best color.
Foam Flooring
Gym flooring becomes ideal if you are using our foam gym flooring facilities. It is best suited for homes, studios, and commercial gyms applications. Just install simply and quickly with no issues during maintenance and installation. It's up to you which size of your place and kind of surface texture and how much thickness you need for your gym Floor. The best thing about foam flooring for gyms is that it is a very portable option and gives you comfort with softness. That is suitable for yoga because it's a very soft and great shock-resistant product. And not ideal for heavyweight equipment and can scratch dents and other damages. But, we are providing cheap and easy installation flooring with our high-quality products, making it double for all types of exercise. You do not get better foam flooring at a low price.
Turf Flooring
People's first best option is Turf gym flooring which is best for yoga and helpful scratching properties with full potential. It comes with all safety certifications. Gym turf flooring Great durability product of Dubai flooring and has well pulling and pushing characteristics for workouts. Good for HIIT workouts and Cross fit WOD. It has all excellent properties for commercial and home gym applications. Very soft look and is comfortable for any type of exercise and comes in different colors, styles, and sizes. Good shock-absorbent and water-resistant and help athletes with any severe injuries. Turf flooring is expensive, but if you think about its specification, you forget about your budget. It is more durable than other gym flooring and goes for long-term use.
Cork Gym Flooring
This is mostly used in commercial gym applications and homemade applications, both for the best flooring ever. It has the capability of water-resistant and renewable material, which is perfect for eco exercise. It will be helpful for all types of activities and gives you a soft, flexible environment. We have a massive range of cork design styles and colors at a reasonable price. Furthermore, we will give you instant installation services according to your requirement. Moreover, we will provide a safety product, and this cork flooring is resistant to shock, fire, mites, and mildew. It can bear the heavy weight of equipment easily, and the long durable material gives you comfortable and joyful exercise always.
Wooden Flooring
We give you another best option for gym flooring which is Wood flooring. It will provide you with a professional exercise gymnasium and offer you to do all types of exercise easily and with confidence. We come with further improvements in the quality of our products, such as foam backing giving you comfort and more shock absorbent to prevent injury. But the one thing you should know about wood gym flooring is that they cannot afford high equipment and can leave scratches on the wood floor. It is not suitable for the dancing floor because it may be slippery sometimes due to sweating. But it is more durable and great for aerobics or kickboxing with Attractive styles and designs.
Vinyl Flooring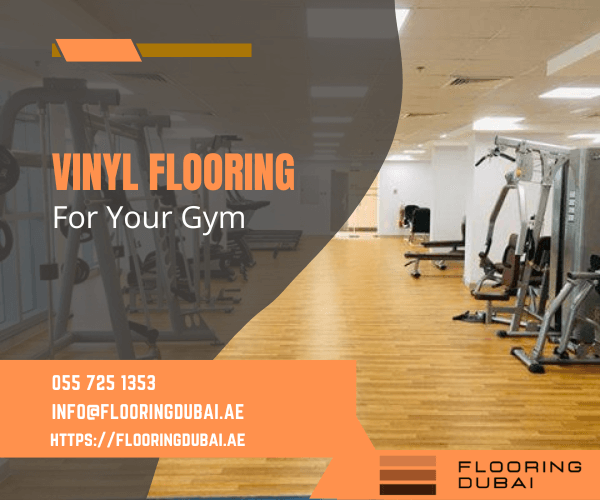 This type of flooring for gyms is not best suitable for home gym places. It is good for home living areas because it is moisture resistant and has mildew properties. That's why it is ideal for basement areas, Washrooms, and living areas. We recommend choosing those products that will give you safety. This also has some chemical properties that are not good for your health athletes and gym ism applications. Suitable for playing areas like football, cricket, wrestling, basement stores, etc. Vinyl mats will give you shock absorption during wrestling. This is not VOCs certified. The best thing is its durability and ease to clean and maintenance.
Ask For Quote
A variety of products are available in our store. So ask for the best competitive prices quotation in the market flooring industry by filling below form right now.
FAQs
The best flooring for a gym depends on the type of exercise being performed and the amount of traffic the area receives. Some popular options include rubber flooring, foam flooring, and vinyl flooring. Rubber flooring is durable, absorbs shock, and provides good traction, making it a popular choice for weightlifting and high-impact exercises. Foam flooring is soft and forgiving, making it a good option for yoga and Pilates. Vinyl flooring is easy to clean and maintain, and is a good choice for multi-purpose areas that may see a variety of activities.
The thickness of gym flooring depends on the type of exercise being performed and the amount of weight being lifted. For high-impact exercises and weightlifting, a thickness of at least 8mm is recommended. For lower-impact exercises such as yoga and Pilates, a thickness of 6mm or less may be sufficient. It\\\'s important to choose a thickness that provides enough cushioning and shock absorption to protect the subfloor and reduce the risk of injury.
It\\\'s recommended to put a subfloor or underlayment under gym flooring to provide additional shock absorption and protect the subfloor. This is particularly important if the gym flooring is being installed over a hard surface like concrete. A subfloor or underlayment can also help to level out any uneven spots on the subfloor, ensuring a smooth surface for the gym flooring.
Yes, gym flooring can be installed over concrete as long as the surface is clean, level, and free of cracks. It\\\'s recommended to put a subfloor or underlayment down first to provide additional shock absorption and protect the gym flooring. Additionally, it\\\'s important to choose a gym flooring material that is compatible with concrete and won\\\'t be damaged by the moisture that may be present in a concrete subfloor.